Back to all posts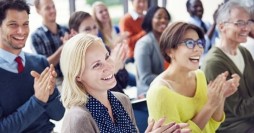 The aim of our conference is to provide as much value as we can to attendees, and we're confident our 2019 programme is set to do just that.
We've packed day one of our conference with valuable content and then followed it up with a second day of expert speakers, insightful discussions and networking opportunities.
Here's what you can expect from day two.
---
Wide range of speakers and topics
Our speakers will be sharing their expertise and insights on a range of topics including implicit associations and behavioural science. Here are just some of the excellent presentations you can look forward to:
Implicit insight into prescribing in relapsed and refractory Multiple Myeloma – Simon Ball, Celgene & Pamela Walker, Incite
Agile Research: Buzzword or Game-Changer? –Tim Dungey, M3 Global Research & Richard Head, Research Partnership
Beyond Behavioural Economics: a fully integrated view of behavioural drivers – Peter Simpson, Segmedica, Inc.
Rising to the challenge – Sam Hope, Blueprint Partnership & Lea Kalweit, Bayer AG
Plenary speakers
One of our fantastic plenary speakers is the brilliant Ana Perez of AbbVie. Ana will be sharing her perspectives on the role that Business Intelligence will play in the future of the industry in her presentation: 'The Promising Future of Business Intelligence within the Pharmaceutical Industry'.  This session will include data gathered from 'hot off the press' feedback from colleagues from agency and pharma companies following a short survey soon to be sent out and is a 'not to be missed' session.
This will be followed by a panel discussion where Ana will be joined by Richard Hinde from Norgine and other panel guests. You'll have the opportunity to listen to different perspectives and offer your own insights about which pathway you want to take to achieve this promising future.
We are delighted to be welcoming Marie-Claude Gervais from Versiti and Shae Eccleston to speak at the conference. Shae is a cancer patient and has personal insight into how patients from minority ethnic backgrounds can be empowered by the provision of greater access to knowledge and involvement in service design. 
Following on with the patient theme, we are thrilled to have Nick Leon from Naked Eye Research and Mark Manning from GSK on the programme.  They will share how immersive research techniques – specifically video ethnography, amplified by the use of drones and 360 VR experiences – deliver human insights to drive growth and new opportunities for pharma. They first presented on a similar topic at ESOMAR in 2018 but will build on this session for EPHMRA in Warsaw.
Closing Keynote
Tom Cheesewright, a highly acclaimed Futurist, with extensive media experience, will close the conference on Thursday 27 June with his unique take on where brands are heading and how all marketers will have to adapt to a world of high frequency change.
Panel and audience discussions
As well as a lively panel discussion with Ana about the future of business intelligence, you can join other industry-relevant discussions throughout the day. These will focus on some of the trends that our speakers have highlighted in their papers. You'll have the chance to discuss these trends with the speakers and your colleagues and look at the practical implications on your business.
Discussion topics include an experiment conducted by Blueprint which sought to identify the natural prioritisations, shortcuts and omissions we make when recalling the past. Sam Hope of Blueprint will present the findings of the experiment and will be part of the discussion panel.
Networking
As well as providing excellent insights, our conference gives you the opportunity to meet new people within the industry, catch up with old colleagues and build connections. Throughout the day, you'll have ample time to network, share your thoughts about the various presentations and discuss the latest industry trends. After the conference, you could even extend your stay and enjoy the wonderful city of Warsaw.
Register today
The EPHMRA Conference is the premier Healthcare Market Research and Analytics Conference and promises to inspire and educate all who attend. Not only is this a chance to meet new people and hear expert insights, it is also an excellent opportunity for personal development.